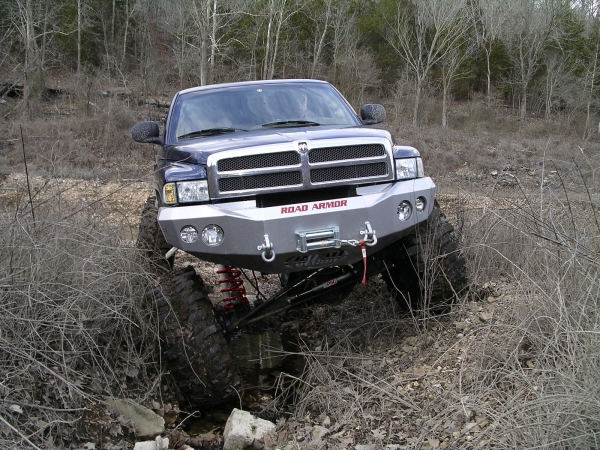 Notice how the bumper hits the headlights on one side, and there is a gap on the other.
And this is with a very flexy suspension! Stiffer suspensions will create more frame flex.
Our philosophy is that fighting a truck that weighs 6,000 to 8,000 lbs is just not a good plan of attack. So we came up with a new plan - to support the steering box and let the frame do whatever it wants. Since the steering box bolts to the driver side frame rail, all we had to do was make sure that the box moved with that frame rail, and the sector shaft went with it. Pretty simple in theory. Making the brace a bolt-on part, and ensuring that it provided the support needed, was not quite as simple. After several design changes and over a year of real-world testing in all conditions, we finally came up with the end-all, be-all of Dodge Ram steering braces. Then we patented the design so nobody could produce an inferior version. The end result is 100% customer satisfaction, 100% steering improvement, and to date, zero steering box failures after using the Dodge Off Road Steering Brace. No other brace can make this claim because no other brace is designed the right way! Our brace has been tested extensively, most notably through 2,000 miles (and counting) of Baja and South American terrain, and of course all over the entire United States.
Not only is this brace a superior design, but it is also one of the only braces that works with the Borgeson steering box without any modification at all. Just specify when ordering which steering box you have, and your brace will be made to fit. The Borgeson box is the ultimate steering box upgrade for your 2nd gen Ram. We happen to be one of the world's largest dealers of these incredible boxes. Learn more about them here.
If you off-road your truck, the benefits of this brace are numerous. You not only get better steering on the road, but you can twist up your suspension without worrying about destroying your gear box. You also gain a skid plate that protects the steering box from any stray rocks, tree branches, etc. One soft hit on the gear box can rip the hydraulic lines off and then you are stranded on the trail. The Dodge Off Road brace adds an extra plate that no other braces have, so you have much more protection.
Protect your expensive steering box and get the only steering brace that will not have any negative impact on your gear box at all. This design is patented so that other companies cannot steal the design and call it their own, so you can only get this brace from Dodge Off Road or through one of our dealers. We have competitively priced these at $199. The kit comes with everything you need to bolt it up, and there is no drilling required. Installation takes about 10 minutes and can be done by one person easily. Your sway bar will still work with this brace and there are no negative effects to the installation at all. We have already worked all of the kinks out so you are getting a perfect product! Best of all, this is 100% made in the U.S.A. using tools that are made in the U.S.A. It doesn't get more American than this!
These fit 2nd gen Ram trucks (1994 to 2001/02 models)
Please visit our new online store at http://store.dodgeoffroad.com If you are seeing this page, it is due to an outdated link. We hope you like the new site!